03/29/17
What's in your Game Day Bag?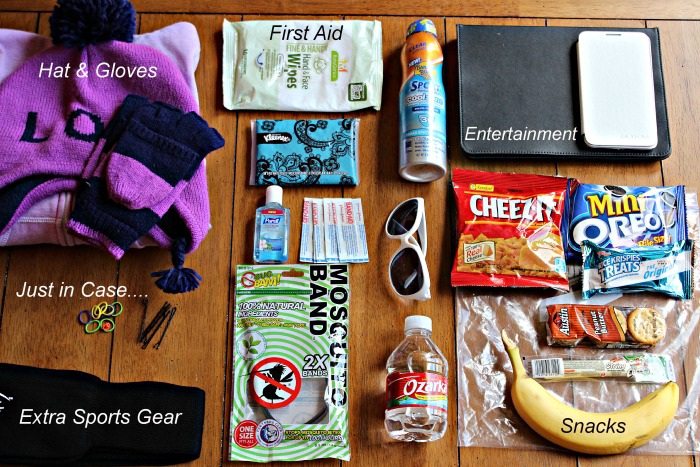 As a sports mom we have to be prepared for everything right? Just yesterday at my son's baseball game a little girl fell on the playground and skinned her knee. Her mom was so grateful someone had a big bandage for her knee. It's stuff like that moms just naturally carry in their Game Day bag.
Do you have a "Game Day" sports bag? I started carrying one when my daughter was playing soccer. We experienced everything that season — weather delays, sunburns, wet uniforms, bloody noses — you name it — it happened that season. So it prompted me to put together a sports bag. Not to mention I was really tired of being late and running out the door without having a bag ready to go. Over the years, the bag has changed a bit but for the most part, it stays the same.
Here's what's in my bag:
Sweatshirt, hat and gloves – With the weather so unpredictable I needed to be prepared for the cooler temperatures. So I added a sweatshirt, hat and gloves to my bag just in case my daughter or son is cold.
Just in case hair rubber bands and pins – You never know when a rubber band breaks or if the weather gets hot and we need to put our hair up. Having extra hair "emergency" equipment can come in handy.
Extra Sports Gear – I have also learned to keep an extra pair of soccer socks or batting gloves on hand. You just never know!
First Aid Kit – My first aid kit includes wipes, tissues, hand-sanitizer and band-aids. I could probably add to this one but for now this is all I have needed.
Sunscreen and Sunglasses – Every parent needs to have sunscreen and sunglasses in their bag. There is nothing worse than bringing home a sun-burned child from baseball.
Mosquito Bands – I am a mosquito magnet, so I tried these mosquito bands. And it worked. So now I keep these bands in my bag for those spring afternoon practices that turn into nights.
Water – I always have water on me. My kids are fish and are always asking for water so I have learned to keep one in my bag at all times.
Entertainment – I have also learned when one child has a game and one is a spectator, I need to bring reinforcements. So I keep a tablet and phone at the ready to bring with us.
Snacks – You never know when an "I'm hungry" will break out. So I am always prepared.
Blanket or Cold Towels – Whether it's hot or cold, you need some relief. A blanket helps in the colder weather — it's also nice to have a stadium seat to keep your behind warm. And in the warmer weather, use the cold towels to cool off. These can stay cool for up to 10 hours. A portable fan works too!
What am I missing? What's in your "game day" sports bag?